Groups and Board Positions
ADVERTISING: There are several opportunities for local businesses to advertise with us (directory and newsletter/website). These businesses rely on us to help keep their doors open. Make sure you stop by and tell them you are part of Newcomers and Neighbors of Sewickley!
BOOK CLUB: This group meets once a month to talk about books! Each month the selected book is published in the newsletter so you know what we are reading. Even if you have not read it, stop by for the coffee/tea and great conversation. This is an open group and we welcome you to come as often as your schedule allows.
COMMUNICATIONS: This is a busy group with a lot going on! Our Facebook page is updated on a regular basis with reminders on our upcoming events.
COUPLES NIGHT OUT (CNO): While most events around Newcomers and Neighbors are women-focused, we do like to include our significant others too! CNO is held once a month, unless one our main parties is scheduled that month to have get together with other couples. This may mean trying local restaurants or events downtown, but either way you will get to know other members.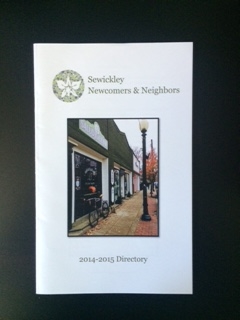 HELPING HANDS: One of the best services this group provides is the organization of meals should you ever need it. Whether you are welcoming a new baby, transitioning to a new job, or struggling loss or sickness, this group will come to your aid by organizing meals to help you through these life events. Typically the recipients are referred so keep your ears open if you think someone may need a helping hand and contact the Helping Hands Board member. We will take care of the rest!
LADIES NIGHT OUT: This really needs NO explanation-a social evening with just the girls. Typically we stay in the Sewickley area for a come-as-you are evening away from it all with your new friends.
MEMBERSHIP: This role helps to connect new members with the information they need as well as managing the list and the sign up process. There are always new friends to welcome so any tips or referrals should send to the Membership chair! We will be happy to take any recruitment tips you may have as well!
NEWSLETTER: At the beginning of each of our active months (September thru May) you will receive a newsletter outlining our upcoming events for the month. Dates, events, etc. will be at your fingertips!
PROGRAMS: Programs are our monthly "meeting". Each month we organize a guest speaker or event that the membership would enjoy. Some programs in the past have been: wine tastings, healthy eating and living tips, and cooking demonstrations. Any ideas you have for a monthly program is always appreciated!
SEWICKLEY SERVES: We are all very lucky and happy to give back to the community. This board members seeks opportunities for us to give. If community service is your thing, then reach out to the Sewickley Serves chair and share your ideas.
SOCIAL: This important chair leads a social committee to help plan some of our most celebrated events. We have three main parties each year: Progressive Dinner, a winter party and the Spring Fling. Each event is expertly planned and coordinated by the Social Committee.
TREASURER: We collect our income from membership dues and advertising revenue. The treasurer's responsibility is to allocate this income to each of our groups and track what is spent throughout the year. The objective is to ensure members see that their dues are spent in a transparent and responsible way to fund our many fun events and activities.
This is an active group with a lot of ways for you to be involved. Each of our groups and board positions is outlined here. If you have any questions about them or would like to be involved, please see the "Meet the Board" page and contact the board member in charge!